Have you been struggling to maintain a sense of normalcy since the world flipped upside down? Have your healthy routines fallen away? Have you felt an absence of well-being and inner peace?
If so, I can guarantee, you are NOT ALONE! When big events occur, personally, professionally, politically and/or globally, it is easy to get 'derailed' from your normal routine and loose touch with the behaviors and practices that help keep your life in balance. It is important to take moments of pause to evaluate the structure of your day and contemplate if there is anything that could be added or subtracted in order to find greater peace and well-being.
Below are three ways to enhance your self-care and create balance.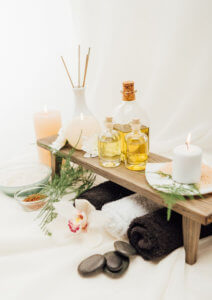 Find Quiet Time
This could be literally a matter of minutes. I have a goal of sitting in a meditative state for 7 minutes a day. Do I miss some days? YES, I do. BUT, setting the intention makes the likelihood of accomplishing my goal much more likely than if I don't set the intention. I use an app called Insight Timer, which has customizable timers, as well as thousands of mindfulness talks and guided meditations.
Prepare A Healthy Meal
Weather you are cooking for yourself or your family, cooking a healthy meal can be a very nourishing way to care for yourself. I find that sticking to the basics and sauteing or roasting some veggies, with a lean meat and some brown rice noodles is a super simple way to feel good in body, mind and spirit.
Move Your Body
Making sure to get some form of movement into your day is an easy way to boost your mood and feel on track. It works best for me to start my day with a movement practice, so that I feel accomplished from the get go. Many gyms, yoga studios, and movement centers have made online classes available. Weather you belonged to a movement community before things shifted, or you are looking to bring new resources into your life, you can do a simple google search for what type of movement you are interested in and there should be plenty of options, many for free, online.
Written by Devon Athey